Is the pyrolysis technology mature enough to contribute to the CO2 reduction targets in the agricultural sector by 2030?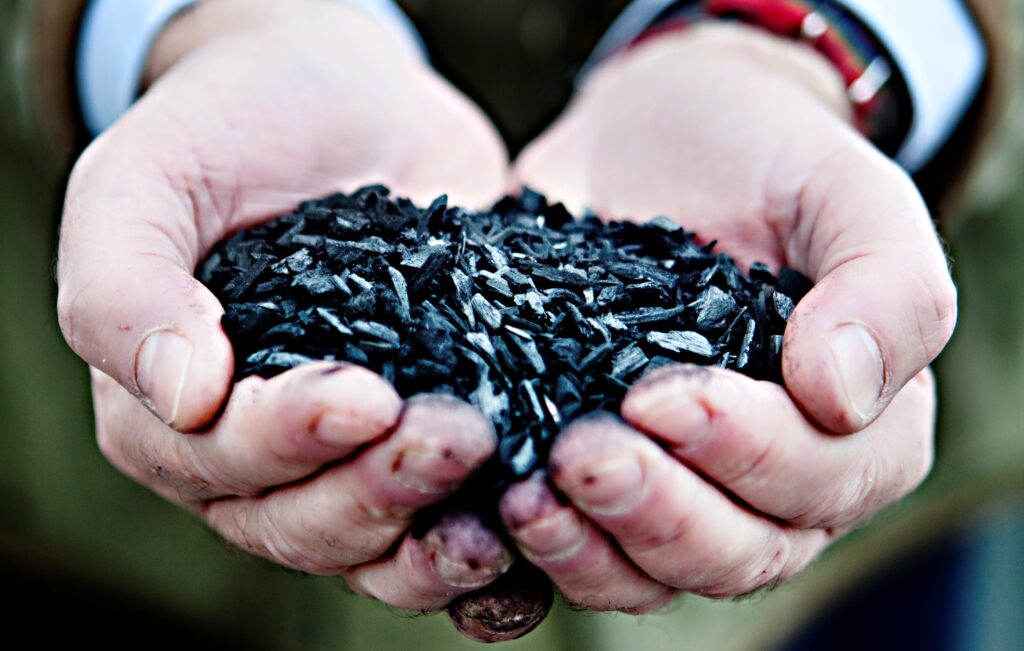 Article
The Danish Council on Climate Change presented its Status Outlook 2023 on 28 February 2023. Besides taking stock of Danish climate policy, the report contains specific recommendations for the Danish Government.
The Danish Council on Climate Change recognises that the Government has outlined an overall roadmap to reduce greenhouse gas emissions by 70% in 2030 compared to 1990. However, this roadmap contains considerable risk elements. The Danish Council on Climate Change therefore assesses that the Government needs to roll up its sleeves and translate climate targets and intentions into concrete action. The Council has identified eight important focus areas for Danish climate policy in the coming year. There is particular uncertainty about which new technologies will be able to contribute most to CO2 reductions in the agricultural sector.
So far, the CIP Foundation has launched two projects, one within agriculture and one within energy, to propose specific solutions and how these can be realised and financed. Our ambition is that the solutions developed will help accelerate implementation within several of the eight focus areas.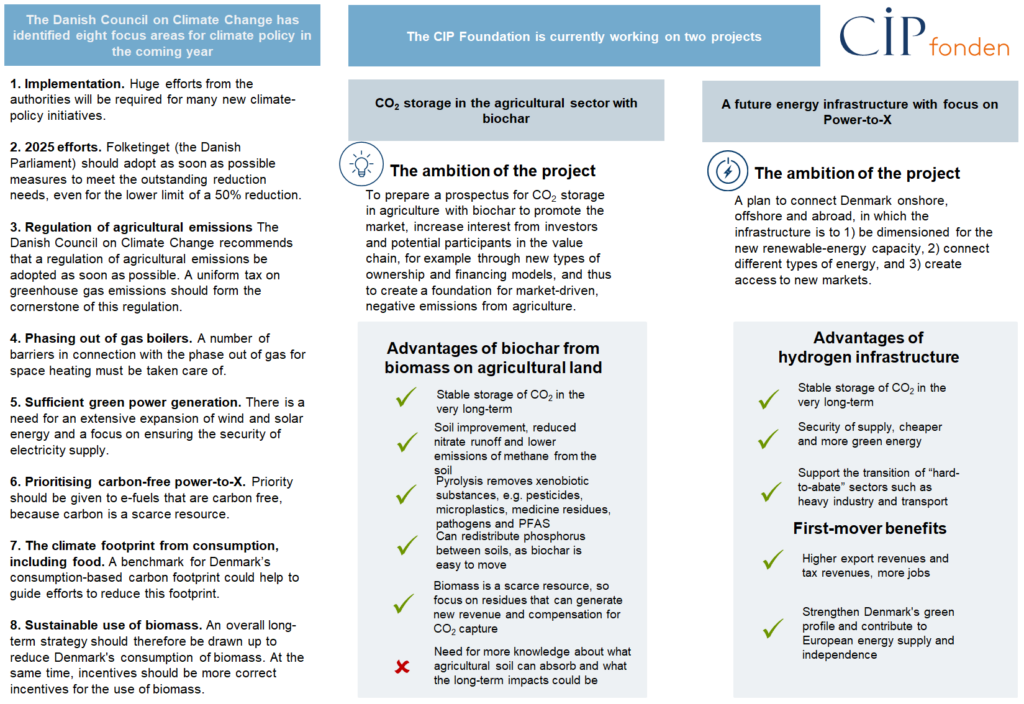 Pyrolysis as a technology to achieve climate targets for agriculture
As shown in the table above, the CIP Foundation has launched a project to explore the possibilities to promote CO2 storage in agriculture using biochar.
In a pyrolysis process, biomass input is converted into biochar, gases and oil. While gases and oil, together with hydrogen, can make chemicals and green fuels, CO2 is captured in the biochar. The CO2 is only slowly released when biochar is ploughed into the soil, and this meets needs to remove CO2 from the air in the short term.
The Danish Council on Climate Change assesses that pyrolysis technology is still too immature to be included in calculations of initiatives to help achieve climate targets up to 2030.
In the October 2021 agreement on a green transition of the agricultural sector, the Danish Parliament allocated DKK 396 million up to 2024 to support technologies to promote the transition of Danish agriculture. Out of this DKK 396 million, a pyrolysis pool of DKK 194 million was earmarked in spring 2022 to support the establishment of pyrolysis plants. This pool went to Stiesdal SkyClean A/S, Dall Energy ApS and Frichs Pyrolysis ApS.
On behalf of the Danish newspaper Dagbladet Information, Associate Professor Tobias Pape Thomsen from Roskilde University has calculated that the three pyrolysis plants will achieve a reduction of approx. 30,000 tonnes of CO₂ annually within the agricultural sector and a similar effect within the energy sector. If the funds from a second pyrolysis pool are also used primarily to establish pyrolysis plants, a total capacity of approx. 100,000 tonnes could be achieved. This would take us five percent closer to the goal in the agreement on a green transition of the agricultural sector. (While we are waiting for the plan for CO2 reductions in agriculture | Information – in Danish.) It is evident that pyrolysis plants have to be established in greater volumes and at a faster pace.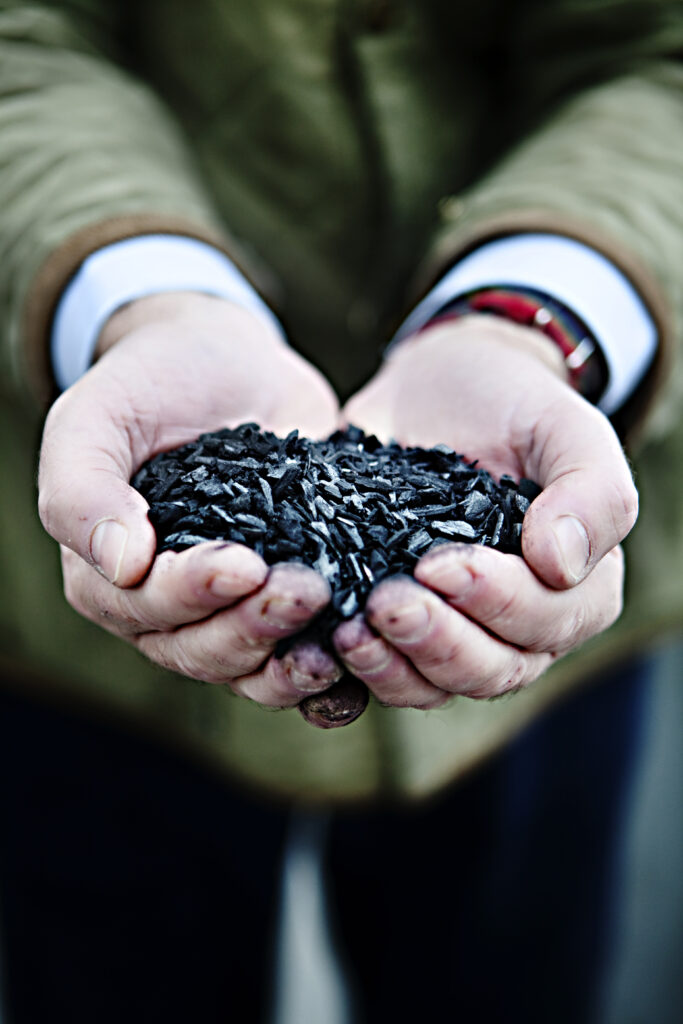 The CIP Foundation does not consider technological advances as a barrier to achieving the goal. If anything, we see a need to examine more closely factors across biomass input, business and value chains, as well as regulation. These factors include reliable documentation, trade in climate certificates for CO2 storage in biochar, and the establishment of value chains between agriculture, industry and energy producers.
The CIP Foundation's project is also looking at whether there are sufficient biomass volumes to produce biochar from straw residues, livestock manure, residual fibres from biogas plants and sewage sludge. The aim is to examine the potential of using otherwise useless residual products to capture CO2 and for simultaneous production of surplus heat and green energy. This is a potential worth pursuing in a future when we will have to use biomass prudently, as the Danish Council on Climate Change stresses.